Pre-Calculus
From Math and Science
In pre-Calculus we will learn how to use different classes of functions. Researchers use functions to describe different types of behavior in the natural world: how a body cools over time; the shape of the path of a ball through the air; how the demand for a product decreases as you increase the price; and, the relationship between hours of practice and test scores, are just a few examples.
In this class we will collect or acquire data and identify the functions that best describe them.
Spring Test Schedule
Exam S1: Trigonometric Functions: Jan. 17th.
Exam S2: Analytic Trigonometry: Jan 31st.
Exam S3: Matrices: Feb 22nd.
Exam S4: Probability and Sequences: March 6th.
Exam S5: Analytic Geometry: April 12th.
Exam S6: 3D Geometry: April 22nd.
Exam S7: Additional Trigonometry: May 10th.
Exam S8: Intro to Limits: March 19th.
Final Exam: During the Final Exam period (Week of May 18th).
Assignments
Portfolio
Over the course of the year you will create a portfolio of the different function types you encounter. You will dedicate one page for each of the types of functions and major topics listed here.
Projects
Grading
Quarterly Exams: 60%
Projects: 40%
Functions
General Principles for Working with Functions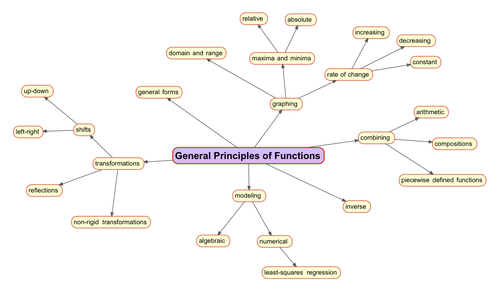 general form of an equation
transformations

shifts
reflections
non-rigid transformations

graphing

domain and range
maxima and minima (relative and absolute)
rate of change (increasing, decreasing, or constant)

combining

arithmetic
compositions
piecewise defined functions

inverse of a function
modeling

algebraic
numerical

regression (least squares)
Linear equations (y=mx+b)
General Forms

slope-intercept
point-slope form

Transformations

parallel lines
perpendicular lines
Quadratic Equations
Additional Info
Apps
Data Analysis Methods (with Linear Functions)
We'll start with a simple function you should be familiar with:
y = mx + b
where:
y = dependent variable
m = slope
x = independent variable
b = intercept
Data Collection
Observations of how the temperature (T) of liquid in a beaker changes with time (t) as it is heated up on a hot plate. (Use the same beaker of liquid and start the clock at the same time, but different groups/students will take measurements at different times)
Data Analysis
Find the equation of the line using a linear model by these methods:
Using two of your measured points.
Linear Regression: Using a calculator or spreadsheet function.
Linear Regression: Direct calculations using a spreadsheet.
Prediction
Compare equations to the other groups that used the same beaker and liquid
Review of Linear Equations
Section 1.1
Forms of the equation:
slope intercept
point slope
general form
Uses of the coefficients:
intercept
parallel and perpendicular lines
Functions
Section 1.2
Definition of a function.
function notation: f(x)
piecewise functions
Domain and Range of functions
Difference Quotient
Graphs of Functions
Section 1.3
Increasing or decreasing functions
Maximums and minimums
Step and piecewise-defined Functions
Odd and Even functions
Transforming Graphs
Section 1.4 - (graphing resources: Straight lines and Parabolas)
Vertical and Horizontal shifts
Reflecting
Stretching
Combining Functions
Section 1.5
Arithmetic Combination
Composition of Functions
Inverse Functions
Graphing Inverse functions
Checking if the Inverse Function exists
Finding the inverse algebraically
Q1 Test Question
Blog Post Problem: find the equation for the best-fit inverse function? That way I could estimate how many hits my 20th or 100th ranked post gets per month.
Old Stuff
Homework
Chapter 5

5.1:1-11 odd
5.2:1-11 odd
5.2:21-37 odd
5.3:1-29 odd
5.4:1-57 odd
5.5:1-101 odd
Chapter 5 Review Exercise 1-105 every other odd
Chapter 6

6.1:1-25 odd; Jessica-27, Jincy-28, Bowen-37, Alex-29.
6.2:1-11 odd
6.3:1-45 odd
6.4:1-51 odd Alex-55, Lena-53, Bowen-57, Jess-59, Jincy-60, Mathew-56
review 2.4
Chapter 7

7.1: 15-27 odd, Pick one: 61-78
7.2: 7-15 odd, Pick one: 61-68
7.2: 1-25 odd, Pick one: 87-94
7.3: 1-25 odd, Pick one: 87-94
7.4: 1-27 odd, 47-59 odd, 67, Pick one: 71-80
7.5: 1-57 odd, Pick one: 65-72
7.6: 1-51 odd, 57
7.7: 1-53 odd
7.8: 1-15 odd, Pick one: 23-34
Chapter 8

8.1: 1-105 other odd, Pick one: 109-114
8.2: 1-69 other odd, Pick one: 75-90
8.3: 1-73 other odd